The host of the British broadcasting organization BBC has apologized for giving false news about the death of Queen Elizabeth II.
Yalda Hakeem, the host of the British Broadcasting Corporation, tweeted on Thursday that "Buckingham Palace has announced that the 96-year-old Queen of Great Britain, Elizabeth II, has passed away."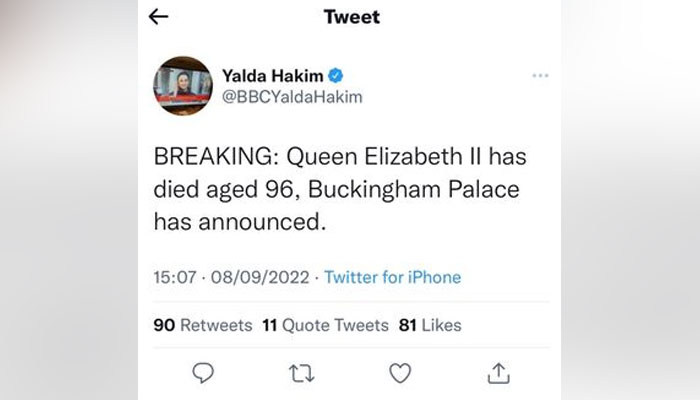 However, later in a statement issued by the British royal palace, Buckingham Palace, it was said that doctors are concerned about Queen Elizabeth's health and advised her to stay under medical supervision.
After the announcement by Buckingham Palace, Yalda Hakeem apologized and issued a statement on Twitter saying, "I said in the tweet that the Queen's death has been announced." That news was wrong, there was no announcement and so I deleted the tweet and I want to apologize for the mistake."
According to British media, Prince Charles and Camilla Parker have also arrived to visit the Queen of Great Britain, in addition to the Duke and Duchess of Cambridge, Prince William and Kate Middleton are also present at Balmoral Royal Palace to visit the Queen.
On the other hand, the British Parliament has expressed good wishes for the health of the Queen. The Speaker of the British Parliament says that he is praying for the health of Queen Elizabeth.
Keep in mind that Queen Elizabeth II is 96 years old. In February, Queen Elizabeth announced that she would be succeeded by Prince Charles and his wife Camilla Parker as Queen of Great Britain.